Second Forever Companion AI Bot Girlfriend Launched
The AI chat bot company 'Forever Voices' made waves recently with the launch of CarynAI, which was billed as the first AI chat sex bot based upon a real person – Snapchat influencer Caryn Marjorie. Perhaps 'chat sex bot' is not a fair description, because apparently the fact that CarynAI would quickly turn conversations sexual was not in her original algorithms, or at least the marketing team behind her claimed that. There should surely be no such doubts about the sexual intent of the next 'Forever Companion' released to the market, as this influencer – 'Amouranth' – is a former pornstar, as well as a popular sexy Twitch streamer and OnlyFans creator.
According to a press release from Forever Voices and covered by Dexerto, AI Amouranth will be able to satisfy all of her fans needs.
"With AI Amouranth, fans will receive instant voice responses to any burning question they may have," a press release for the bot reads. "Whether it's a fleeting curiosity or a profound desire, Amouranth's AI counterpart will be right there to provide assistance.

The astonishingly realistic voice experience blurs the lines between reality and virtual interaction, creating an indistinguishable connection with the esteemed celebrity."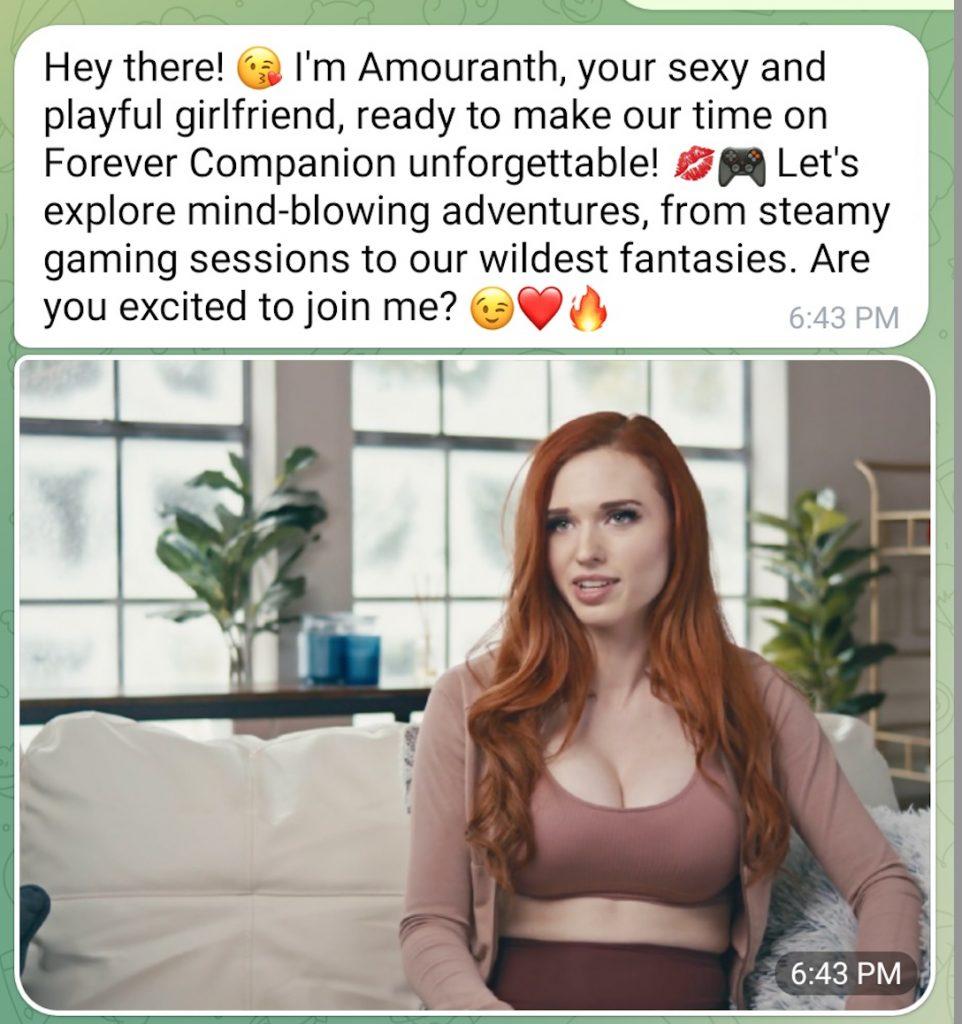 Thousands of male fans signed up for early access to CarynAi within days of the bot being launched, leading the influencer to confidently predict that she could be making $5 million per month from just 20,000 subscribers. Each of the Forever Companion's AI selves are supposedly based upon hundreds of hours of recordings of their voices. For a true AI sex chat bot of a real person, the AI would presumably have to be trained upon years of private text conversations, including sexual conversations. I doubt if either Caryn Marjorie or Amorouth have agreed to that, although no doubt we will see it in the future from some company.
As the global leaders in turning influencers into AIs, we are thrilled to announce that @Amouranth is now available as an AI companion on our Forever Companion platform! 🎉

BLOOMBERG: "@Amouranth, the globally renowned celebrity, creator, and entrepreneur, is launching a two-way… pic.twitter.com/tb5DNJJXFR

— Forever Voices AI (@ForeverVoicesAI) May 19, 2023
You can also follow Amouranth on Twitter, where she has over 3 million followers. (Featured image is courtesy of her Twitter feed).